Rent A Seat Arona in Larnaca: Your Ultimate Guide
Ever found yourself thinking, "I want to Rent a Seat Arona in Larnaca"? If so, you're in the right place. This car has been gaining traction among travellers, and for good reasons. Keep reading, as we'll explore everything from its benefits to where you can find the best deals. And believe me, there's a little surprise waiting for you at the end!
Class: SUV - Medium
Doors: 5
Minimal driver age : 21
Gearbox : Automatic
Max passengers : 5
Max luggage : 2
Fuel : Petrol
Air Conditioning
Automatic Lights
Bluetooth Phone
Bluetooth Radio
Car Play
Cruise Control
Radio
Why Choose to Rent a Seat Arona?
The Seat Arona, known for its stylish design, impressive fuel efficiency, and spacious interiors, has become a top pick for travellers in Larnaca. Whether you're travelling alone or with family, the Seat Arona ensures you navigate the picturesque terrains of Larnaca comfortably.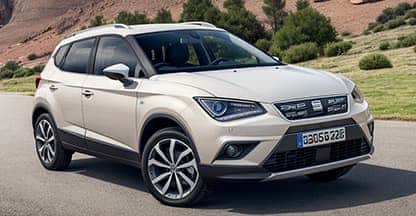 Rent a Seat Arona: Pricing Insights
When planning to rent a Seat Arona in Larnaca, pricing plays a pivotal role. Generally, the daily rental price hovers around €30 to €50. However, prices might vary based on factors like the season, the rental company, and car availability. Early bookings, especially during tourist seasons, can often fetch better deals.
Where to Rent a Seat Arona: Top Companies
Multiple car rental agencies operate in Larnaca, but it's crucial to choose wisely. Always prioritise companies with glowing customer reviews, transparent pricing, and a smooth rental experience. Don't forget to peruse Seat Arona rental reviews online to ensure you're making an informed choice.
Exploring Alternatives: The Seat Ateca
While the Seat Arona is undoubtedly an excellent choice, some might want a little change. Consider the Seat Ateca. A close sibling to the Arona but slightly more spacious, the Seat Ateca offers an enhanced driving experience, perfect for those wanting a bit more from their vehicle.
Dine in Style at The Enigma Restobar
Having sorted your drive, what's next? If your taste buds are tingling for some culinary magic, steer your Arona to The Enigma Restobar. Nestled in Larnaca, this restobar promises a delightful mix of local and international cuisines – a must-visit on your travel itinerary!
Top Tips for Successful Car Rental
Renting a car? Here are some quick tips to ensure a smooth experience:
Compare Before Committing: Always shop around. Different companies offer varied rates and packages. Make sure you're getting the best deal.
Understand Fuel & Mileage Policies: Some deals might seem attractive until you get hit with hidden fuel charges or mileage restrictions. Clarify these aspects upfront.
Inspect the Vehicle: Before driving off, inspect the vehicle for any damages. This will protect you from unwarranted charges upon return.
Consider Additional Insurance: Depending on your travel insurance or credit card coverage, you might want to opt for additional rental insurance. It's always better to be safe.
Read the Contract: Always take a few minutes to read the rental agreement. If anything's unclear, ask.
With these tips in hand, you're all set for a hassle-free car rental experience!
Wrapping Up
Whether you're a first-timer or a regular visitor, renting a Seat Arona in Larnaca offers an unmatched driving experience. With the information shared, you're now well-equipped to make the best car rental decision.
And that surprise I promised earlier? Larnaca's best-hidden spots will be the highlight of our next article. So, as you cruise around in your Arona, stay excited and stay tuned!