Discover the Freedom of Renting a VW T Roc in Larnaca
Are you planning a trip to Larnaca and searching for the ideal vehicle to explore the city and its surroundings? Look no further than Rent a VW T Roc. With its stylish design, impressive features, and reliable performance, the VW T Roc is the perfect companion for your Larnaca adventure. In this article, we will guide you through the process of renting a VW T Roc, ensuring that you have all the information you need to make the most of your trip.
Class: 5 Door Crossover - Large
Doors: 5
Minimal driver age : 25
Gearbox : Automatic
Max passengers : 5
Max luggage : 3
Fuel : Petrol / Mild Hybrid
Air Conditioning
Automatic Lights
Bluetooth Phone
Bluetooth Radio
Car Play
Cruise Control
Radio
Why Choose the VW T Roc for Your Larnaca Adventure?
The VW T Roc offers numerous advantages that make it an excellent choice for exploring Larnaca. Its compact size allows for easy maneuverability through the city streets, while still providing ample space for passengers and luggage. Whether you're planning a solo trip or traveling with friends, the VW T Roc offers the versatility and comfort you need.
Additionally, the VW T Roc is equipped with advanced safety features such as adaptive cruise control, lane-keeping assist, and a comprehensive airbag system. These features ensure a safe and secure driving experience, giving you peace of mind during your Larnaca exploration.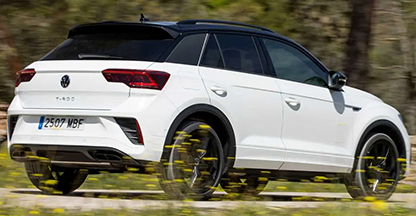 How to Rent a VW T Roc in Larnaca
Renting a VW T Roc in Larnaca is a straightforward process. Here's a step-by-step guide to help you along:
Begin by researching reputable car rental companies in Larnaca. Look for companies that offer a wide selection of vehicles, competitive prices, and positive customer reviews.
Visit the website of your chosen car rental company and navigate to their car rental section. Look for the VW T Roc among their available vehicles.
Review the rental terms and conditions, including the duration, mileage limits, insurance coverage, and any additional fees. Make sure to understand and align with the terms to meet your requirements.
Proceed with the online booking process. Enter your rental dates, personal information, and any specific preferences you may have.
Review your booking details carefully and confirm your reservation. Verify the pickup location and any other relevant information.
Upon arrival in Larnaca, head to the designated pickup location to collect your VW T Roc. Have your driver's license and passport ready for a smooth rental process.
Before driving away, thoroughly inspect the vehicle for any existing damages. If you notice any, report them to the rental company to avoid any misunderstandings later. Taking photos or videos of the car's condition is recommended as evidence.
Now you're ready to embark on your Larnaca adventure with the VW T Roc. Take advantage of its impressive features, comfortable interior, and fuel efficiency to explore the wonders of the city.
Recommended Vehicle – Rent a Hyundai Tucson for Extra Space and Comfort
If you require extra space and comfort during your Larnaca trip, we recommend considering the Hyundai Tucson. This SUV offers ample room for both passengers and luggage, making it ideal for family vacations or larger groups. To learn more about renting a Hyundai Tucson in Larnaca, visit our website: Rent a Hyundai Tucson.
Discover the Charming Village of Lefkara
During your stay in Larnaca, we highly recommend visiting the picturesque village of Lefkara. Famous for its traditional lacework and silver handicrafts, Lefkara offers a unique cultural experience. Explore the narrow streets, visit local artisans' workshops, and immerse yourself in the village's rich history and charm.
For more information about Lefkara and its attractions, visit Lefkara Tourism and start planning your visit.
Conclusion
Renting a VW T Roc in Larnaca allows you to experience the city and its surroundings with comfort, style, and reliability. Follow the simple steps outlined in this article to secure your rental and embark on a memorable Larnaca adventure with the VW T Roc. Don't forget to consider the Honda Vezel Automatic for extra space and comfort. For more information, visit our website: Rent A Honda Vezel Automatic.
While in Larnaca, make sure to explore the captivating village of Lefkara and its traditional crafts. For additional travel inspiration and detailed information, visit Lefkara Tourism. Enjoy your time in Larnaca!