Rent A VW T-Roc Cabriolet: The Ultimate Guide for Larnaca Adventures
Ever fancied driving with the wind in your hair, navigating the picturesque roads of Larnaca? There's something irresistibly tempting about it, isn't there? Stick around, and by the end of this piece, not only will you know why the VW T-Roc Cabriolet is a fantastic choice for your journey, but you might just find yourself making a reservation!
Rent Rent a VW T-Roc Cabriolet
Class: Cabriolet
Doors: 2
Minimal driver age : 23
Gearbox : Automatic
Max passengers : 4
Max luggage : 1
Fuel : Petrol / Mild Hybrid
Air Conditioning
Automatic Lights
Bluetooth Phone
Bluetooth Radio
Car Play
Cruise Control
Radio
Why the VW T-Roc Cabriolet?
From the moment I took the VW T-Roc Cabriolet for a test drive in Larnaca, it was love at first sight. This isn't just any car; it promises a journey unlike any other. Think about the strength and durability of an SUV, seamlessly fused with the irresistible appeal of a convertible.
When you choose to Rent A VW T-Roc Cabriolet, you're not merely hiring a vehicle; you're setting the stage for an unforgettable tale on the road. So, if your travels bring you to Larnaca, don't let this adventure pass you by. Dive into this experience – it's bound to leave an impression!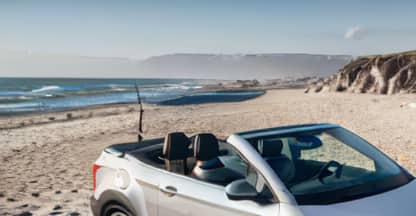 Top Features You'll Love
Adaptable Roof: Rain or shine, it doesn't matter! Switch between a convertible and a closed car in a jiffy.
Advanced Safety Features: It's not all just fun; safety is paramount with this model.
Fuel Efficiency: Tour around Larnaca without constantly hunting for petrol stations.
Finding the Right Spot to Rent
Alright, you're convinced. You want to get your hands on this gem. But where to start? Whether you're looking to rent a Volkswagen T-Roc near me or you've set your heart on the Cabriolet version, Larnaca has options aplenty. I've had friends (and yes, I'm admittedly a tad jealous) pick up their T-Roc right from the heart of Larnaca. And word is, larnacacarhire.com is one of the most reliable spots.
Things to Consider Before Renting
Renting a vehicle, especially one as grand as the VW T-Roc Cabriolet, comes with responsibilities. Ensure you're familiar with the local driving regulations in Larnaca and always, always get the necessary insurance coverage. Oh, and don't forget to snap a picture when you get it. The envy from your mates will be worth it!
What If You Fancy a Different Ride?
I get it, choices can be overwhelming. While the VW T-Roc Cabriolet is a top pick, maybe you've got an eye on something a tad smaller, perhaps? In that case, might I suggest you Rent A Mini Convertible? It's zippy, stylish, and absolutely perfect for those tight Larnaca streets.
Viking Divers: Your Dive Guide in Cyprus
Looking to explore the mesmerising dive sites around Cyprus? Dive in with Viking Divers. Established in 1993, Viking Divers is one of the premier PADI 5 star Dive Centres in Cyprus, strategically located in Larnaka Bay, near the British base in Dhekelia. Just a short journey from Larnaka International Airport and a stone's throw away from the seaside.
Their commitment? Ensuring you master diving skills in a fun, yet secure environment. With a team of PADI-certified professionals who speak multiple languages, you're guaranteed a comprehensive understanding of diving essentials. Their equipment? Always current, always top-notch. Because for Viking Divers, safety isn't just a priority; it's a principle.
Closing Thoughts: Why Wait?
If there's one thing I've learned from my time in Larnaca, it's that experiences are the real treasures. And driving around in a VW T-Roc Cabriolet? That's an experience worth having. So, if you're in the mood to elevate your Larnaca journey, you know what to do.
Alright then, fellow adventurer. Will I be seeing you on the roads of Larnaca soon? I'll be the one waving from the pavement, perhaps a tiny bit green with envy. Safe travels!