Rent a Hyundai Tucson Hybrid: Your Ultimate Guide to Larnaca Car Hire
Are you planning a trip to Larnaca and looking to rent a Hyundai Tucson Hybrid? You've come to the right place! In this comprehensive guide, we'll walk you through the process of renting a Hyundai Tucson Hybrid in Larnaca, ensuring you have all the information you need for a smooth and enjoyable experience.
Whether you're a nature enthusiast or simply seeking a reliable and eco-friendly ride, the Hyundai Tucson Hybrid is an excellent choice for exploring the beautiful city of Larnaca and its surroundings. So, let's dive in and uncover everything you need to know about renting this fantastic vehicle!
Rent Rent a Hyundai Tuscon Hybrid
Class: SUV - Premium
Minimal driver age : 20
Gearbox : Automatic
Max passengers : 5
Max luggage : 7
Fuel : Petrol / Mild Hybrid
Air Conditioning
Automatic Lights
Bluetooth Phone
Bluetooth Radio
Car Play
Cruise Control
Radio
Exploring the Hyundai Tucson Hybrid
The Hyundai Tucson Hybrid is a versatile and fuel-efficient SUV that combines style, comfort, and sustainability. With its sleek design, spacious interior, and advanced hybrid technology, the Tucson Hybrid is perfect for both city driving and longer trips around Larnaca. This eco-friendly vehicle offers exceptional fuel efficiency, reducing your carbon footprint while saving you money on fuel costs.
Renting a Hyundai Tucson Hybrid in Larnaca
When it comes to renting a Hyundai Tucson Hybrid in Larnaca, there are a few key steps you need to follow. Firstly, you should start by browsing reputable car rental agencies in the area. Look for agencies that specialize in eco-friendly vehicles and have a wide selection of Hyundai Tucson Hybrid models available. One such agency is Larnaca Car Hire, which offers a seamless online booking system and a variety of rental options to suit your needs.
Once you've chosen the agency, navigate to their website, such as larnacacarhire.com, and search for the Hyundai Tucson Hybrid in their car rental inventory. You'll find detailed information about the vehicle's specifications, rental rates, and availability. Make sure to select the desired rental dates and provide any additional preferences you may have, such as child seats or GPS navigation systems.
After reviewing the terms and conditions, proceed with the online reservation. It's always advisable to book in advance, especially during peak travel seasons, to secure the availability of the Hyundai Tucson Hybrid for your desired dates. Provide the necessary personal and payment information to finalize the reservation.
Why Choose the Hyundai Tucson Hybrid?
The Hyundai Tucson Hybrid offers numerous benefits that make it an attractive choice for car rental in Larnaca. Here are a few compelling reasons why you should consider renting this eco-friendly SUV:
Fuel Efficiency: The Tucson Hybrid's hybrid technology allows for impressive fuel efficiency, reducing your environmental impact and saving you money on fuel expenses during your stay in Larnaca.
Comfort and Space: With its spacious interior and comfortable seating, the Hyundai Tucson Hybrid provides ample room for both passengers and luggage, ensuring a comfortable and enjoyable journey throughout your Larnaca adventure.
Advanced Safety Features: Equipped with cutting-edge safety features, such as forward collision-avoidance assist and blind-spot collision warning, the Tucson Hybrid prioritizes your safety on the road, giving you peace of mind during your travels.
Environmentally Friendly: By choosing a hybrid vehicle like the Hyundai Tucson Hybrid, you contribute to reducing greenhouse gas emissions and promoting a more sustainable future.
Explore Larnaca and Beyond
While exploring Larnaca in your Hyundai Tucson Hybrid, take the opportunity to visit some of the city's fascinating attractions. One such place of interest is the Hala Sultan Tekke, a beautiful mosque located on the banks of the Salt Lake.
This tranquil site holds historical and religious significance, attracting visitors from all around the world. You can find more information about the Hala Sultan Tekke and its rich history.
Alternative Vehicle Recommendation
If you're seeking an alternative vehicle to complement your Larnaca adventure, we recommend considering the Hyundai Kona Electric. This all-electric SUV offers zero emissions, an impressive driving range, and the same exceptional comfort and safety features as the Hyundai Tucson Hybrid.
For more information and to book a similar alternative could be a Rent A Hyundai Tucson.
Conclusion
Renting a Hyundai Tucson Hybrid for your trip to Larnaca is a fantastic choice for eco-conscious travelers who value comfort, style, and sustainability. By following the steps outlined in this guide, you'll be well-equipped to secure a Hyundai Tucson Hybrid rental from a reputable agency like Larnaca Car Hire.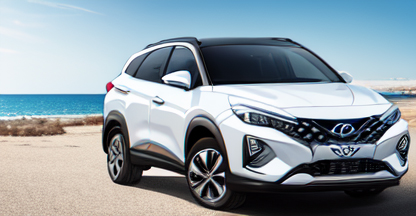 Enjoy exploring the stunning city of Larnaca and its surrounding areas, knowing that you're driving a reliable and eco-friendly vehicle. Book your Hyundai Tucson Hybrid today and embark on a memorable journey through the captivating landscapes of Larnaca!