Rent a Honda Vezel Automatic: Your Ultimate Guide to Car Rental in Larnaca
Are you planning a trip to Larnaca and looking to rent a Honda Vezel Automatic? You've come to the right place! At larnacacarhire.com, we offer a wide range of car rental options to suit your needs. In this comprehensive guide, we'll walk you through the process of renting a Honda Vezel Automatic in Larnaca, providing you with all the information you need to make an informed decision. So, let's dive in and explore the exciting world of car rentals in Larnaca!
Rent Rent a Honda Vezel Automatic
Class: 5 Door Crossover - Large
Doors: 5
Minimal driver age : 21
Gearbox : Automatic
Max passengers : 5
Max luggage : 4
Fuel : Petrol
Air Conditioning
Automatic Lights
Bluetooth Phone
Bluetooth Radio
Car Play
Cruise Control
Radio
Why Choose the Honda Vezel Automatic?
Before we delve into the rental process, let's take a moment to appreciate the Honda Vezel Automatic and why it's an excellent choice for your adventures in Larnaca.
The Honda Vezel Automatic is a compact SUV that combines style, comfort, and performance. With its sleek design and advanced features, this vehicle offers a smooth and enjoyable driving experience, making it perfect for exploring the beautiful landscapes and vibrant city of Larnaca.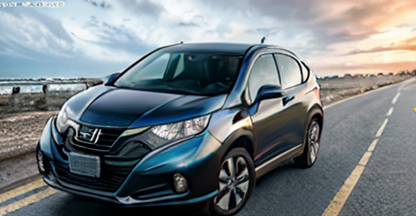 Equipped with an automatic transmission, the Honda Vezel ensures a hassle-free driving experience, especially if you prefer to avoid the complexities of manual gear shifting. Whether you're planning a solo trip, traveling with family, or exploring with friends, the Honda Vezel Automatic provides ample space for passengers and luggage, making it versatile and convenient for all types of adventures.
The Rental Process
Now that we've highlighted the merits of the Honda Vezel Automatic let's walk you through the rental process. Renting a car in Larnaca is a straightforward and seamless experience, and we're here to guide you every step of the way.
Step 1: Making a Reservation
The first step to renting a Honda Vezel Automatic is to make a reservation. You can visit our website, larnacacarhire.com, and easily book your preferred vehicle online. Our user-friendly interface allows you to select the dates, choose the Honda Vezel Automatic as your preferred car model, and provide any additional preferences or requirements you may have.
Remember to input the keyword "Rent a Honda Vezel Automatic" when searching on our website to ensure you find the relevant information and options for renting this specific vehicle model.
Step 2: Pick-Up Location
Once you've made your reservation, the next step is to choose a convenient pick-up location. We offer several pick-up points across Larnaca, including the Larnaca International Airport. Select the location that best suits your needs and travel plans.
If you're arriving at the Larnaca International Airport, we have a dedicated desk where our friendly staff will be ready to assist you and ensure a smooth handover of the Honda Vezel Automatic.
Step 3: Required Documentation
When picking up your rented Honda Vezel Automatic, make sure to have the necessary documentation with you. This includes a valid driver's license, passport or identification card, and a valid credit card for the rental payment and security deposit. The minimum age requirement for renting a car in Larnaca is 21 years, and you must hold a valid driver's license for at least one year.
Step 4: Vehicle Inspection and Contract
Before driving off with your Honda Vezel Automatic, we'll conduct a thorough inspection of the vehicle's condition together. We recommend carefully inspecting the car and noting any existing damages to avoid any potential misunderstandings upon return.
Once the inspection is complete, we'll provide you with a rental contract outlining the terms and conditions, including the rental duration, insurance coverage, and any additional services you may have opted for. Review the contract carefully and feel free to ask any questions before signing.
Step 5: Exploring Larnaca with Your Honda Vezel Automatic
Now that you have the keys to your Honda Vezel Automatic, it's time to hit the road and discover the wonders of Larnaca. From the stunning beaches and archaeological sites to the charming streets and delicious local cuisine, Larnaca has something for everyone.
Remember to drive safely, follow the local traffic regulations, and enjoy the freedom and flexibility that comes with having your own rental car.
Other Recommended Vehicles
Looking for alternative options? While the Honda Vezel Automatic is a fantastic choice, we understand that everyone has different preferences. If you're interested in exploring other vehicles, we recommend considering the Hyundai Bayon Automatic.
With its modern design, comfortable interiors, and advanced features, the Hyundai Bayon Automatic offers a delightful driving experience in Larnaca. You can find more information and book the Hyundai Bayon Automatic here.
Discover Hermes Airports
If you're flying into Larnaca, you'll likely arrive at the Larnaca International Airport, also known as Hermes Airports. Located just a short distance from the city center, this modern and well-equipped airport serves as the main gateway to Larnaca and the surrounding regions. To learn more about Hermes Airports and its facilities, you can visit their official website here.
We hope this guide has provided you with valuable insights into renting a Honda Vezel Automatic in Larnaca.
At larnacacarhire.com, we strive to make your car rental experience convenient and enjoyable, ensuring you have the freedom to explore Larnaca at your own pace. So, what are you waiting for?
Book your Honda Vezel Automatic today and embark on a memorable adventure in beautiful Larnaca!